Complimentary used car warranty for 6 months or 6,000 miles at Armstrong VW near Portland, OR
Shop Used Vehicles
Contact Us
Call or message now!
More Info:

(503) 472-0383
Learn More About Our Used Car Warranty at your local VW Dealership.
We Offer A Used Car Warranty near Portland, OR
Why do we provide a complimentary warranty on our used vehicles? It's simple: we care about our customers and are confident in the quality of every used vehicle sold on our lot. No shortcuts, no games; our team is here if something goes wrong with your ride. Our friendly and experienced team at Armstrong VW, near Portland, OR, will do everything possible to leave you smiling in your used car, truck, van, or SUV. Questions? Please message, call, or visit our dealership today. We're here to help!
 What Does It Cover?
Engine Parts
Transmission Parts
Drive Axles
Brakes
Steering
Cooling
Electrical Parts
& MORE!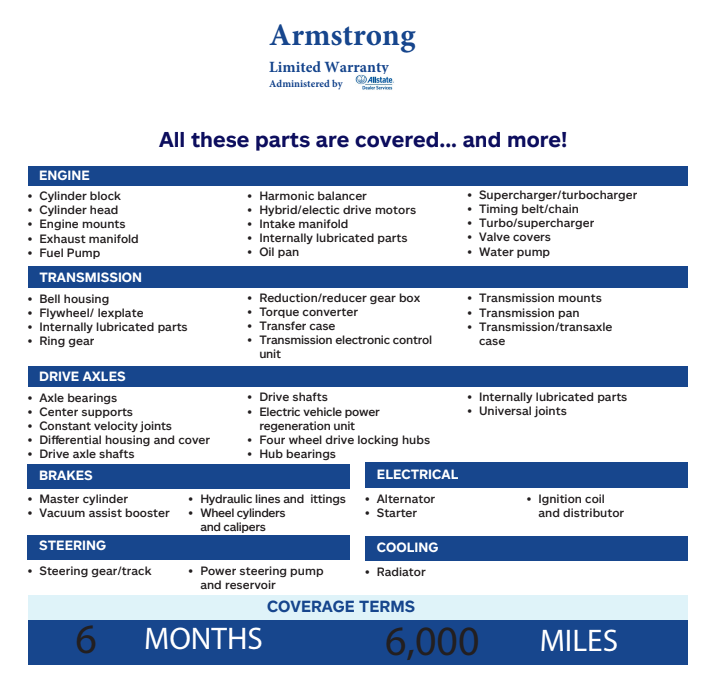 We Care About Our Customers at Armstrong VW
No matter whether you need service, repair, maintenance, or even certified financing solutions, our Gladstone, OR car dealership, near Portland and Beaverton, OR, is here to help. Our certified technicians and finance professionals can guide you through the car-buying process seamlessly. Ready, set, GO.
Car Service: 

(844) 205-9399

Car Parts: 

(503) 305-4320
*Standard limited warranty program vehicle eligibility. Coverage is 6 months 6,000 miles. There are two warranties: The first is that the vehicle model year must be no older than the current calendar year minus 12 years and the vehicle Odometer mileage must not exceed 100,000 miles; the second warranty is that the vehicle model year must be no older than the current calendar year minus 15 years and the vehicle Odometer mileage must not exceed 150,000 miles. The following Makes are eligible for limited warranty unless explicitly excluded by the vehicle exclusions section. Eligible makes Class A: Acura, Genesis, Honda, Hyundai, Infinity, Isuzu, KIA, Lexus, Mazda, Mitsubishi, Nissan, Subaru, Suzuki, Toyota. Class B: Buck, Chevrolet, Chrysler, Dodge, Ford, GMC, Hummer, Jeep, Lincoln, Mercury, Pontiac, Ram, Saturn, Volkswagen. Class C: Alfa Romeo, Audi, BMW, Fiat, Jaguar, Land Rover, Mercedes-Benz, MINI, SAAB, Smart, Volvo. Ineligible vehicles include Acura NSX / Audi R8 10 cyl and R8 GT / BMW Alpina, i8, 8 series, M6, M7, and M8 / Chevrolet Corvette ZR1 / Dodge Challenger SRT Demon and Viper / Ford GT and Roush or Saleen Mustang / Honda FCX / Land Rover Range Rover Autobiography / Lexus LF-A / Me. 
Covered parts;
Engine Parts Include:
Cylinder block, Cylinder head, Engine mounts, Exhaust manifold, Fuel Pump, Harmonic balancer, Hybrid/electric drive motors, Intake manifold, Internally lubricated parts, Oil pan, Supercharger/turbocharger, Timing belt/chain, Turbo/supercharger, Valve covers, Water pump.
Transmission parts Include:
Bell housing, Flywheel/ lexplate, Internally lubricated parts, Ring gear, Reduction/reducer gear box, Torque converter, Transfer case, Transmission electronic control unit, Transmission mounts, Transmission pan, Transmission/transaxle case.
Drive Axles Include:
Axle bearings, Center supports, Constant velocity joints, Differential housing and cover, axle shafts, Drive shafts, Electric vehicle power regeneration unit, Four wheel drive locking hubs, Hub bearings, Internally lubricated parts, Universal joints.
Brake Parts Include:
Master cylinder, Vacuum assist booster, Hydraulic lines and ittings, Wheel cylinders and calipers.
Electrical Parts Include:
Alternator, Starter, Ignition coil and distributor.
Steering Parts Include:
Steering gear/track, Power steering pump and reservoir.
Cooling Parts Include:
Radiator.